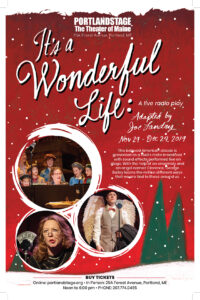 IT'S A WONDERFUL LIFE: A Live Radio Play adapted by Joe Landry
POSTER DESIGN
This play is performed almost every other year by Portland Stage, and the original season-branded illustration had been used for multiple years. Since it is a highly recognized and high-revenue generating production, I protected the original illustration by Jamie Hogan with the exception of adding snowball frames and live actor images from a previous season and rearranged elements a bit to make room for some copy. Live actor images provide the instant visual impact needed to portray that it is a live, rich theatrical production to the pedestrian on the street.
Original illustration by Jamie Hogan
Photos by Aaron Flacke
Poster Layout and Design by Mical Hutson
Pictured:  Shane Van Vliet at the piano (AEA Stage Manager),
Actors Dustin Tucker and Lauren Orkus (members AEA)
_______
VIDEO CONTENT
At this point, I am understaffed – and have taken several large projects into my department while trying to hire a new associate, but I got some content out to promote the show. The best is yet to come.