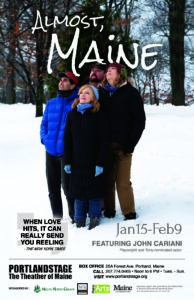 ALMOST, MAINE by John Cariani
This is one of Portland Stage's crowning achievements in a list of many. John Cariani's play Almost, Maine was workshopped in their New Works Festival years ago, and won the Portland Stage New Works Competition, The Clauder Competition Prize which means it won the opportunity to have world-premiere on its mainstage the following season. The play then went out into the world and became the most produced play in the USA. The playwright, John Cariani, also went onto Broadway success and returned. Both the playwright and play returned to Portland Stage in its 2019-20 season for the remount with the multiple Tony-nominated actor in a starring role.
POSTER CONTENT
This poster left the early season illustrative branding entirely, including the font. Since the play features vignettes of rural Maine people falling in and out love, with one scene beautifully lit with the Northern Lights, I posed them in Deering Oakes Park in simple clothing looking stunned. It ended up being Portland Stage's most successful play in its history. The teamwork and collaboration with the actors and artists spoiled team marketing. Everything we did with them was a joyous celebration that created synergy and excitement. We brought them all back to host our virtual 2020-21 season announcement.
Photo and Poster Design by Mical Hutson
Assisted by Stage Manager Shane Van Vliet and Director Sally Wood
Actors pictured:  John Cariani, Raymond McAnally. Samantha Rosentrater, Kathy McCafferty (members AEA).
VIDEO CONTENT

Cody Brackett, our new Marketing Associate, is now on board and my department is finally staffed
(2 full-time ppl – me and him, with lots of essential part-time designers for playbills, ads, etc. .)
and we're running in a direction that I am so proud of.
Everything I want, Cody figures out how to give it to me, or ups the ante and says, why not this?
I finally had the headspace to create a new content series titled OFF SCRIPT, ON STAGE.
The idea came from a LORT Marketing Theater Conference I attended in Seattle that Fall.
I shot it, did some of the early editing, and then Cody polished it off and made me swoon.