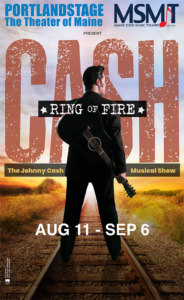 RING OF FIRE conceived by Bill Meade and created by Richard Maltby Jr.
POSTER CONTENT
We had the good fortune of the Brooklyn based actor in this show summering in Maine, so we were able to arrange a photoshoot with Actor & Performer Scott Moreau from the Broadway run. This meant we were able to use live-actor design from the outset of the announcement of the show.  The green screen images made for a powerful poster. And since Scott Moreau performs Cash tributes around the country, he brought his own costumes and the guitar. We just needed to shoot and design.
Photo by Mical Hutson
Photo Assistants Cody Brackett and Carol Marquis.
Poster Design by Mical Hutson.
This performance was canceled due to COVID-19.
VIDEO CONTENT
Since we had already created our 2020-21 season announcement video that included this play, we kept it in the live announcement to use a springboard to discuss how the organization will handle COVID-19, and hopefully reschedule this production for the following summer. This video also illustrates a new era in Portland Stage branding and design we created entirely in-house for the 2020-21 season. More on that in the next slide.