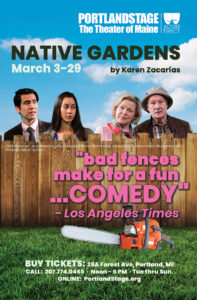 NATIVE GARDENS by Karen Zacarías
POSTER DESIGN
This photo session on greenscreen started as an entirely different concept. And it bombed. It was too busy and we were walking a delicate political line – we had two neighbors sparring over cultural differences. We wanted everyone – all political beliefs – to come to the theater to be entertained by this brilliant comedy.  I ended up with this fence and chainsaw as a last-minute hail mary, and we all were pleased with the results and the videos that came out after.
Photo by Mical Hutson
Poster Design by Mical Hutson
Actors pictured: Jose-Maria Aguila, Octavia Chavez-Richmond, Laura Houck, Mitch Tebo (all members of the Actors Equity Association)
VIDEO CONTENT
When COVID-19 hit and shut down our productions, Portland Stage Artistic and Executive Director Anita Stewart scrambled to secure rights to present our production of NATIVE GARDENS behind a paywall (OTT) to our ticket buyers, so with our hands tightly protecting our wallets during a new unknown, we produced a full play, getting our play up and running long before other theaters were able to with the help of a talented WordPress coder to enable restricted viewing as necessitated by various rights.
Here is a 15-minute sample of that full theatrical digital production. This led to other theaters reaching out to me to hire the producers of this digital stream.