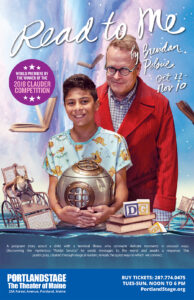 READ TO ME by Brendan Pelsue
This was world-premiere at Portland Stage: 2019-20 season.
POSTER DESIGN
In the theater world, illustrative art is often used for the year leading up to the production from the time it is announced, then when the actors arrive in town to rehearse a month prior to the production, actor access, and photoshoots allow new marketing collateral that feels more "alive" happen. This very tender and tough play about a dying child was very surrealistic. We tried to create questions that needed to be answered for the pedestrians on the street with this poster.
Actors pictured, Tom Ford and Lukis Crowell, both members AEA.
Photo & Design by Mical Hutson Photography.
VIDEO CONTENT